With 1.1.3, Patron Pro now allows you to control the excerpt length that appears before locked posts – the Sneak Peek feature.
Now you will find a new option that allows you to control the size of Sneak Peek in your Plugin admin's Content Locking settings section: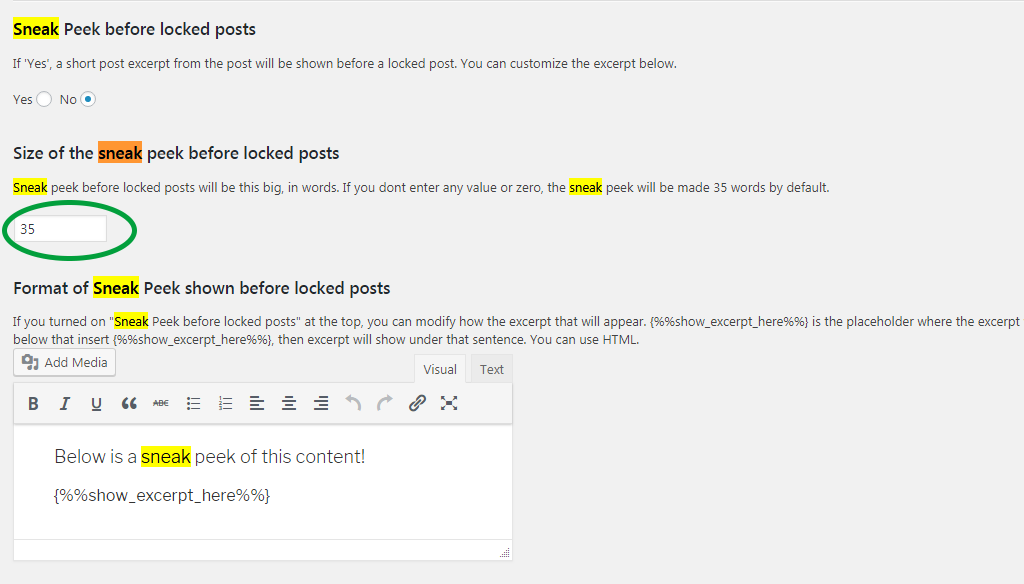 This value allows you to control the paragraph length of the excerpts which are going to be shown from locked posts before the post lock interface. It defaults to 35 words. In that case, if you enter 50 words, for example, this time the excerpt is going to grow to 50 words large.
Naturally it would be necessary to refresh your web site's cache to refresh the excerpts in front end, in case you are using a caching plugin or server-side caching.
Note: This feature was formerly named 'Excerpts before locked posts'. Renaming it Sneak Peek will hopefully make it easier to remember.
……………….
To be able to update through your WordPress admin, you must have a valid license and had activated/saved this through the 'Addons' tab of your Patron Plugin Pro admin.
If you are having issues while updating, or any issue with your plugin after updating please contact support