Patron Pro 1.3 major update brings you various important new features and fixes.
Lock posts by category, tags, custom terms. Lock any custom post by custom taxonomies and custom terms
A major new feature, this feature will allow you fine grained control over your locked posts.
Now you can lock posts by categories, tags. You can lock custom posts also by their own custom categories and tags.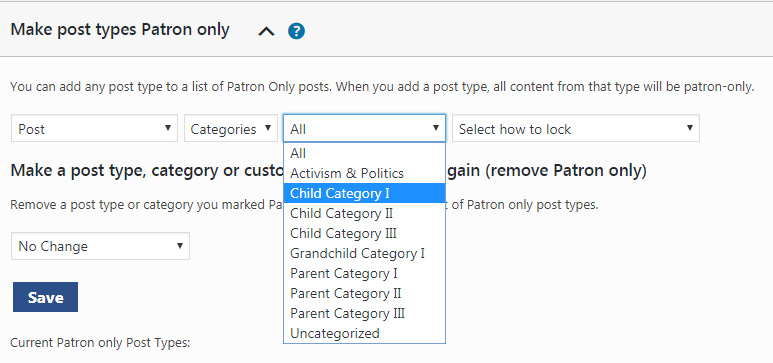 For example you can lock Category A for $1, with a specific locking rule, whereas locking Category B, for $5 and a totally different rule. At the same time you can lock Tag A and Tag B with different $ levels and rules, and so on.
You can queue more than one rule for the same post type, category or tag! The last added rule will take precedence over others in case a post fulfills more than one rule.
Your existing post type locks will continue functioning alongside the new options.
The manual page for this feature has been updated to reflect this new exciting update – Click here to read how you can use this feature with visuals
Background color option for Patron only sections/excerpts inside your post
Before it was not possible to change the background color of the locked content boxes for patron only sections of your posts. Now with the new option its possible: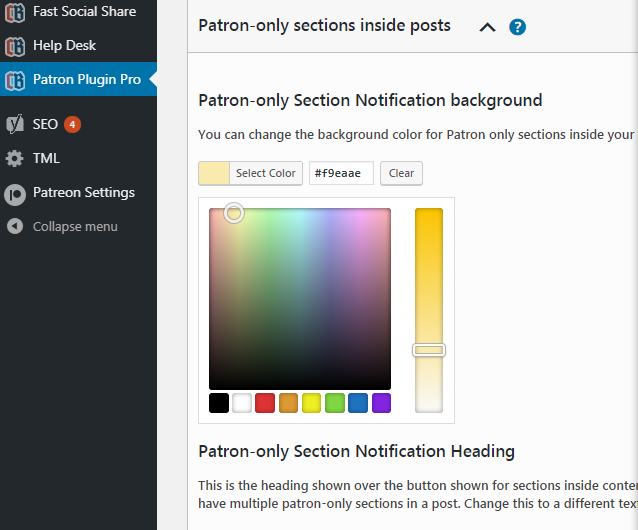 In the 'Patron only sections inside posts' section at the 'Content Locking' tab of your plugin settings, you can find the above option to change the background color of your patron only excerpts.
Content Locking Settings Section Revamp
Content locking settings section is revamped. Now you can toggle different groups of settings. And each group has a link to their manual page.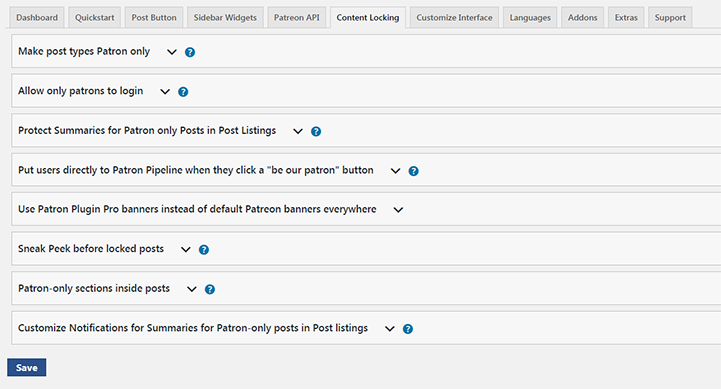 Lock by Age countdown fix
Lock by age feature was not counting down the days until a locked post would be accessible to all. This was fixed.
Login lock feature VIP and Custom Patreon level fix
Login lock feature was not letting VIP and qualifying Custom Patreon level users to log in. This was fixed. Now Login lock feature will allow VIP users and qualifying Custom level users to log in.
Custom locked Post section/excerpt content $ level fix
When you used a custom text for locked post sections/excerpts by putting in the replacement string ***patreonlevelrequirement*** as the placeholder for the $ value for the locked excerpt, it was not showing the correct $ value. This was fixed and this replacement string is now replaced by proper $ value.
……………….
Updating
Updating Patron Pro is now very easy:
If you see a notice that says new version is available for Patron Pro in your WordPress admin, just click to upgrade your installation. Patron Pro will do the rest. Upgrading requires having an active license which is saved in the Addons tab of your Patron Pro admin. If you recently activated your license, you may need to wait ~45 minutes for it to be recognized.
If you aren't able to see any notice or updates, then you may need to do it manually once. To do that, just deactivate/delete Patron Plugin Pro by CodeBard in your WordPress plugin admin. Then download the latest version from your CodeBard account, and upload/install and activate the patron-plugin-pro.zip you just downloaded. Patron Pro will do the rest.
If you are having issues while updating, or any issue with your plugin after updating please contact support