Simple lock method is a method that locks your singular content (post, custom post) by a $ level.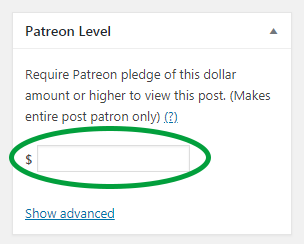 The $ input box inside 'Patreon level' meta box in your post editor will allow you to enter a $ level to lock the content you are editing. Other options inside that box are not mandatory. You don't have to put the '$' sign with the value, only the number.
When you enter a value in this box and save, that content will be marked for that $ level and anyone who wants to access that content will need to be your current members/patrons at that $ value or higher.
For example, if you enter 5 into that box, the content will be locked for $5, and anyone that is not your patron or any patron which pledge you less than $5 will be noticed that they need to be a higher level patron to access that content.
Whereas a patron who is currently pledging $5 or higher, like $7, $10 or even $100, will be able to access that content.
This method is a good method to lock singular content.
This method also overrides rost type locks. For example if a post type was locked for $5 in Patron Pro admin, but you enter $10 to this $ box, then this post's $10 value will override the rost type lockvalue of $5. Then whereas all the other posts of this type require $5 to access, this particular post will require $10.