Patron Pro 1.3.2 update brings a interface updates and major bugfixes
Lock your posts by your Patreon tiers
Earlier you had to put a precise $ amount in post editor to lock an entire post. With the new version of PW, now you can easily select a tier from your Patreon to lock a post. The tier amount for locking the post will be automatically recognized.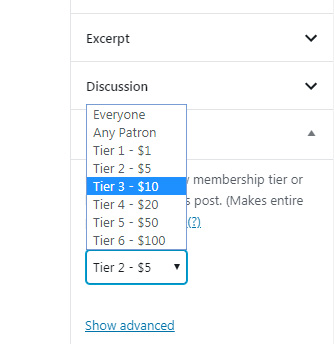 Also your earlier $ amount based locked posts will work, they will automatically match your Patreon tiers.
You will still be able to lock your posts by entering a precise amount in the $ input which is now moved into Advanced toggle below the select box. If you use the precise amount, it will override the tier selected amount. If you use the tier select box, then it will override the precise $ amount this time. So you can use either.
Locked posts now show the matching tier required to view content
The interface that shows up on lock posts now shows the matching tier required to view content based on $ amount, instead of directly showing the $ amount. Additionally it includes a link to your Patreon profile now.
Bug that caused lifetime pledge not to be accounted for fixed
When you locked a post with different methods and also entered a lifetime pledge amount, this amount was ignored and post stayed locked. This was fixed. Now if a patron which satisfies the lifetime pledge requirement you set for a post views the post, s/he will get access to it.
Empty spaces wont appear when there is no custom banner
Empty space was generated by custom banner code even in cases there was no custom banner. Now the code for custom banner will appear only when there is any custom banner of any sort.
Custom banner logic improved
Display logic for custom locked post banners improved. Now if its set, it shows Custom site wide PW banner first, then overrides it with Patron Pro banner if its set, and then overwrites it with custom banner set in the post editor for that post if it is set. No banner is shown if none of these are present.
Custom post banner metabox now appears in Gutenberg editor
Custom Patreon banner for the post metabox was moved to side in order to have it display in Gutenberg editor and classic editor at the same time.
………………
If you would like to see a summary of all new features and changes in recent updates, visit the summary page.
……………….
Updating
Updating Patron Pro is very easy:
If you see a notice that says new version is available for Patron Pro in your WordPress admin, just click to upgrade your installation. Patron Pro will do the rest. Upgrading requires having an active license which is saved in the Addons tab of your Patron Pro admin. If you recently activated your license, you may need to wait ~45 minutes for it to be recognized.
If you aren't able to see any notice or updates, then you may need to do it manually once. To do that, just deactivate/delete Patron Plugin Pro by CodeBard in your WordPress plugin admin. Then download the latest version from your CodeBard account, and upload/install and activate the patron-plugin-pro.zip you just downloaded. Patron Pro will do the rest.
If you are having issues while updating, or any issue with your plugin after updating please contact support