Patron Pro 1.4.6 update brings you various small fixes and a feature feature enhancement
Lock for dates 5 years into the future
Previously date based locking allowed you to lock only within the year we were in. With 1.4.6, you can now lock for dates up to 5 years into the future. A practical use case for this is gating content into the new year, 2020.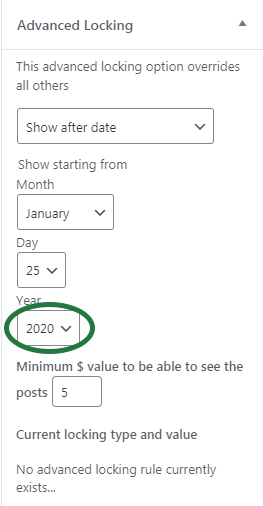 To use this enhancement you can just set the year to a subsequent year in date selection when locking for dates. You can lock new content like this, or override existing content's lock by specifying a new date. This will work for both 'Show after date' and 'Lock after date' locking choices.
In addition, numerous fixes were incorporated into 1.4.6 since 1.4.0
= 1.4.5 =
* Worked around WP 5.3 bug that causes a PHP notice that stems from an issue in WP itself.
= 1.4.4 =
* Addressed PHP submenu notice error in WP 5.3
* Updated widget and post button link construction logic
* Better decision on which link to use.
* Made Author widget to go to author's profile if exists
= 1.4.3 =
* Multi line custom patrong greetings now work.
= 1.4.2 =
* Saved greeting for non patrons is loaded properly after switching back and forth in between different tier greetings. Before it loaded default greeting as opposed to saved one.
= 1.4.1 =
* Tier dropdown for Custom Patron Greeting widget made to work with text mode in tier message editor
* Now downloads and installs Patreon WordPress from WP repo
………………
If you would like to see a summary of all new features and changes in recent updates, visit the summary page.
……………….
Updating
Updating Patron Pro is very easy:
If you see a notice that says new version is available for Patron Pro in your WordPress admin, just click to upgrade your installation. Patron Pro will do the rest. Upgrading requires having an active license which is saved in the Addons tab of your Patron Pro admin. If you recently activated your license, you may need to wait ~45 minutes for it to be recognized.
If you aren't able to see any notice or updates, then you may need to do it manually once. To do that, just deactivate/delete Patron Plugin Pro by CodeBard in your WordPress plugin admin. Then download the latest version from your CodeBard account, and upload/install and activate the patron-plugin-pro.zip you just downloaded. Patron Pro will do the rest.
If you are having issues while updating, or any issue with your plugin after updating please contact support